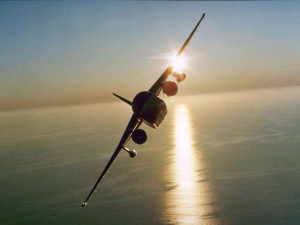 I have had the inauspicious pleasure of having flown on five flights in the last week for my day job.  It's not really in my nature to travel much aside from my work duties, so I didn't have much experience flying until much later in my life.  After the initial novelty of air travel had worn off, I found that I started looking for things to fill the invariable delays caused by rescheduled flights, long tarmac delays, and cheaper one-stop connecting flights.
Podcasts
This all began after a friend of mine suggested that I check out the Catholic Answers podcast to deepen my faith.  It worked, and the format lends itself quite handily to air travel.  You can listen to a few questions, taking breaks for the flight attendant's safety briefing (yes, some of us do listen to those), take-off, landing, or whatever else happens that prevents your ability to use portable electronics.
Over time I added a few additional podcasts to the fold, foremost among them Jimmy Akin's podcast.  There are dozens if not hundreds of other excellent options for Catholic podcasts, if there are any others that you enjoy feel free to leave them in the combox and share with the class.
Books
The last few trips, I have packed in a faith-based short book or two.  I prefer shorter books because they're easier to fit in the carry-on luggage, such as C.S. Lewis' theology books or anything under a couple hundred pages.  On my latest trip, I brought William T. Ditewig's "101 Questions & Answers on Deacons" and finished almost the entire book during the two hour flight.
I prefer traditional (dead tree) books because they can be read during the non-electronics segments of the flight and can present you a great evangelization opportunity if someone asks about the book you're reading.  It's a little harder for this to happen with an e-reader like the Amazon Kindle because people can't see the book cover.  Not to say that Amazon Kindle won't work for self-education purposes… in fact one of the greatest epiphanies I have had while reading on a flight was when reading Patrick Coffin's volume "Sex au Naturel" on my Kindle… but that's a story for another time.
My wife has suggested reflection books like the Magnificat for this type of reading as well.
Prayer
Flight offers some great time for quiet reflection.  During one of my flights last week, I decided to do a rosary.  While praying, I noticed that there was an old lady a few rows up from me that was sniffling a lot.  This made me wonder if she was sick or had just lost a loved one… and then I started  thinking about what kind of stories that everyone else on the flight had.  I ended up saying most of my rosary for the people that were on the flight with me and for those that were missing them back at home, along with my own intentions.
Add to that the flight crew, the safety personnel, the flight attendants… the nervous old man that clearly doesn't like flying at all… and you can see how your time during take-off can present an interesting opportunity for a different kind of prayer.
For me, I find that quiet time away from my own loved ones makes me reflect on why I miss being around them.  This often leads me to pray for them for my own safe return at the end of my trip.
A Makeshift Retreat?
I wish I could say that I sat down with the firm intent to build myself a spiritual development program that I could use to fill this spare time.  The truth is that these ideas grew organically over time and I have only recently realized that it was adding together to be like a miniature retreat.  It sure beats reading the SkyMall catalog or doing a crossword puzzle!