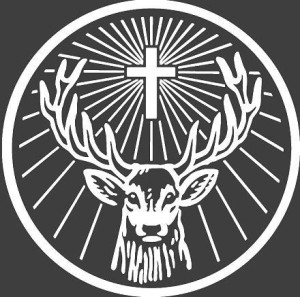 I went to lunch with some coworkers today.  We went to an establishment that served alcohol, and we got into a discussion about the frozen margarita machines and the Jagermeister chiller that they had behind the bar.  The conversation lingered on that liquor, and I got to throw out one of my favorite little trivia facts:
The logo used on Jagermeister is actually a reference to Saint Hubert, the patron saint of hunters.  Tradition holds that Saint Hubert was converted after pursuing a magnificent stag.  The stag turned and Hubert beheld a cross between the stag's antlers, where he heard a mystical voice that led him to the Church.
I explained this briefly, and one of the guys I was with asked "What's a patron saint?"
I told him that sometimes saints are venerated based on things they did in their life, including hobbies.  The thought is that these saints can intercede in a special way for those that share that same experience.
A Wikipedia article provides a much more articulate explanation:
Professions sometimes get a patron saint owing to that individual being involved somewhat with it. Lacking such a saint, an occupation would have a patron whose acts or miracles in some way recall the profession. For example, when the hitherto unknown profession of photography appeared in the 19th century, Saint Veronica was made its patron, owing to how her veil miraculously received the imprint of Christ's face after she wiped the blood and sweat off.
There's nothing like a little lunchtime evangelization!  Sadly, it didn't end in the consumption of Jagermeister.