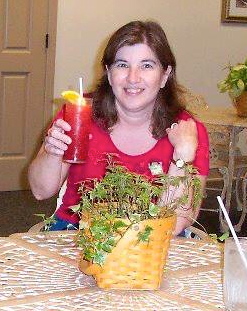 This is my Aunt Gail.  On Friday, she would have been 57 years old.  She passed away seven years ago after a heroic but brief fight with brain cancer.  She lived her life in kind service of others, quick to help anyone that needed it.  She loved animals, she loved kids, she loved her family… and we all loved her back.  She truly lived the Golden Rule in her life and was an shining example of good Christian ideals.
Last year, my Mom organized an effort to collect good deeds in Gail's memory.  The plan was to shoot for 56 different good deeds, and the response was overwhelming… good deeds of all shapes and sizes came in from all over the United States and even one from France!  Many of the people that participated didn't even know my aunt, but loved the idea of remembering her with charitable good deeds.
Some examples: buying dinner for a random family at a restaurant, mowing lawns for disabled neighbors, taking a donation of pet food to the local animal shelter… it didn't have to be much, but it all added up to to a wonderful way to remember a fantastic woman.
To participate, all you have to do is perform a good deed on Friday.  It doesn't matter for who, it doesn't have to be a lot of money, but try to make it from the heart.  If you do decide to participate, please send me an email and let me know what you did (if you want, you can stay anonymous… just let us know that you'd like that).  I'll pass this information on to my Mom, who has been collecting a count of the good deeds in hopes that we can make 57 good deeds.  I'm also asking that you pray for anyone who participates and for the repose of my Aunt Gail's soul.