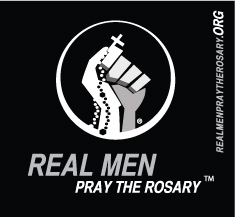 Last week, amid the noise and gnashing of teeth that is my Facebook page I noticed the news of a truly interesting new apostolate dedicated to promoting the rosary with strong conviction, making a bold claim that 'Real Men Pray The Rosary'.  What's more, they are currently running a 33 Day Rosary Challenge to meditate on the human ministry of Christ… one rosary for each of the 33 years that Christ dwelt among us in the flesh.
The mission of this program immediately resonated with me.  I have been working on ways to add more prayer to my daily life, ways to focus on the mysteries of Christ, and ways to visibly illustrate my internally held convictions.  The problem: it was May 5.  They were already five days into their challenge and I had only just found out about it.
I thought about waiting until June 1st and starting, but I might lose focus and forget… so I did what any real man would do.  I packed up my daughter and off we went to the park.  She's a two-year-old so she loves to swing and run around the playground, so she swung and went on the slide, and I prayed four rosaries in the middle of the busy park.  I ignored the sideways glances from the group of six or seven teenagers that had congregated to yell obscenities and talk about their latest romantic conquests (I'm being charitable in that assessment, by the way) and carried right on with it.  Eventually the teens dispersed, probably because of the weird guy praying in public.  I'm ok with that.
I picked up the fifth rosary that I needed to catch up later on that night, and have settled into a nice routine of praying the rosary before bed.  Twice this week, I had the good fortune of praying the rosary before my Knights of Columbus meetings.  It's a very powerful thing, sitting amongst a group of men all praying the rosary.  On Monday I found out that one of my friends, a fellow Sir Knight of Columbus, had entered hospice care so my rosaries this week were dedicated to his strength, the strength of his family, and for God's Will to be done for him.
This week I have found myself meditating on the mysteries of the rosary a little bit more during the day.  I don't know if this is simply because I'm becoming more familiar with them or because I am thinking about difficult things like the illness of my friend, but I feel that this 33 Day Challenge is already having a positive effect.
I will join my voice with those that run the apostolate… get those rosary beads out of the drawer and pray them this month!  Don't worry about catching up, if it had been any later in the month I probably would have just started on an arbitrary day and counted out my own 33 day interval.  I mentioned before that I have a problem remembering the Mysteries, but that doesn't have to trouble me any longer.  I grabbed the Laudate app (available on iTunes and Android) and discovered that it has an interactive rosary that you can pray anytime and it lists the Mystery of the day on there.  If you don't have a smartphone, I am sure that your local Church or Knights of Columbus Council has little cards that list the prayers and the Mysteries.  If you're lucky, they might even have a spare rosary for you too.
Real Men Pray The Rosary and you can too!